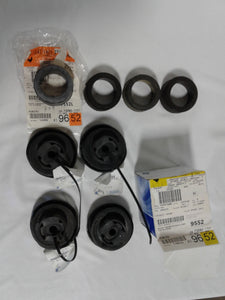 This is a full set of NOS GM upper and lower cab mount bushings for 1981-1987 Chevrolet and GMC Pickup trucks. These are correct for 1/2 ton, 3/4 ton, and 1 ton, and both 2 wheel drive and 4 wheel drive trucks.
The GM part numbers are 15597600 and 14032743.
I have one box with 15597600, but the other three have GM tags with part numbers.
I have one bag with 14032743, but the part number is embedded in all 4 pieces.
These are new and have never been installed.